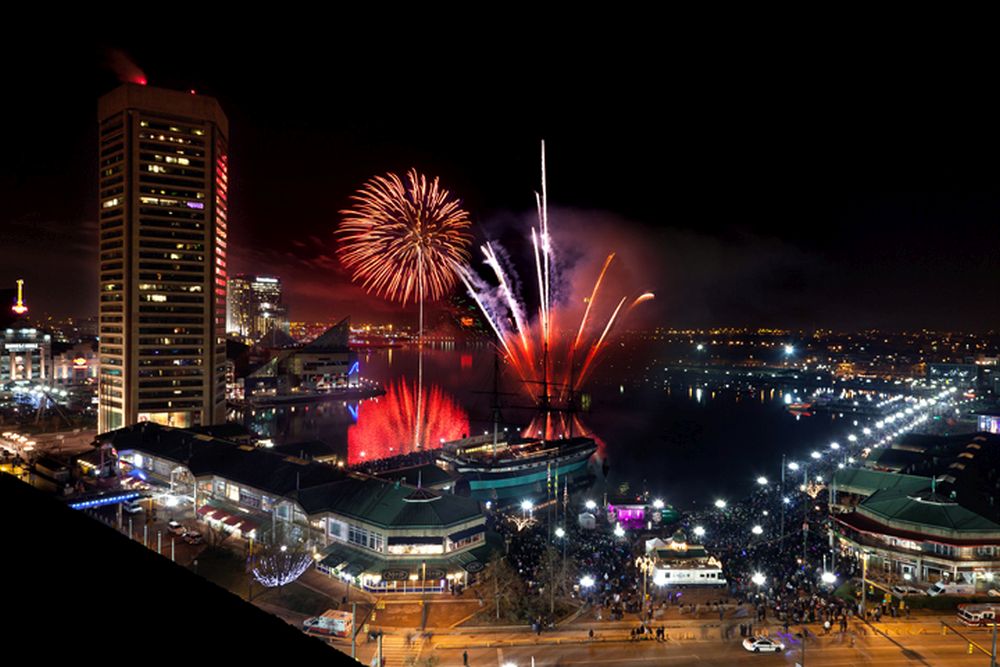 [
Saturday December 31 2015
Black Magic & Blues Mission
Noon @ Lexington Market, 400 West Lexington Street; (between North Eutaw and Greene Streets) Baltimore, Md.
Tony Denikos
(roots rock) Early show 4pm @ Cat's Eye 1730 Thames St. Fells Point, 410-276-9866
Ruben Montoya band
til' 2 AM @ Cat's Eye 1730 Thames St. Fells Point, 410-276-9866
New Pony
(funk) @ Kooper's Tavern, Historic Fells Point, 1702 Thames Street, Baltimore, MD 21231. (410) 563-5423
Bad w/Names
(classic rock) @ The Waterfront Hotel, 1710 Thames Street Baltimore MD 21231
410-537-5055
Bumper Jacksons
(
Video sample
) $35 includes light fare, midnight champaigne toast or $175/VIP table for 4 with bottle of champaigne @ Creative Alliance at The Patterson Theater, 3134 Eastern Ave, Baltimore, MD 21224. Phone:(410) 276-1651
to reserve tix
The Record Company
video sample
Flying Eyes open Balloon drop, free midnight toast. 10pm $25 @ Baltimore Soundstage, 124 Market Place, Baltimore MD 21202. (410) 244-0057
Old Soul Revival
(6pc Allman Brothers and Grateful Dead tribute band
video sample
) and
Better Off Dead
(Grateful Dead jam band) @ The 8x10, 10 E Cross St Baltimore, MD 21230(410) 625-2000
Cold Spring Jazz Quartet
$25 @ The Cabaret at Germanos, 300 South High Street, Baltimore, MD 21202. 410-752-4515
Eclipse
(Journey tribute band) @ Sue Island Grill & Crab House, 900 Baltimore Yacht Club Road Essex MD 21221
410-574-0009
Awaken
(rock) @ Firehouse Tavern, 2800 Joppa Road Carney MD 21234. 410-661-3555
Josh Christina Band
(50's R&R featuring Josh on boogie woogie piano) @ Ashland Cafe, 10810 York Road Cockeysville MD 21030. 410-666-3838
Sound Storm
(6pc dance band w/sax, two lead singers) $75/person includes: Hors Douvres, Buffet Dinner; Open Bar (Domestic Beer, House Wines and Rail Liquor); Champagne Toast at Midnight, Continental Breakfast @ Bowman.Restaurant, 9306 Harford Rd, Parkville, MD
to reserve tix
Vintage Hi Fi
(classic rock) $65 unlimited food and Rail drinks/domestic beers @ McAvoy's - 2531 Putty Hill Avenue - Parkville, Maryland 21234 – 410.882.0500
Dave DeMarco band
(classic rock) @ Dew Drop Inn, 12301 Philadelphia Road/Rt. 7 Kingsville MD 21087. 410-538-3126
Never Never
Rock featuring many Led Zeppelin covers @ 510 Johnnys, 510 Marketplace Drive Bel Air, MD 21014 410-836-8702
Bob Noble & blue Voodoo
@ Main Street Tower, 29 S Main Street , Bel Air, Maryland
The Fabulous Hubcaps
(oldies show band) $65/adv until 12/10 $75/dr @ APG Federal Credit Union Arena at Harford Community College 401 Thomas Run Rd, Bel Air, MD 21015. Phone: (443) 412-2000
Great Train Robbery
@ The Hilltop Inn, 825 Hilltop Rd Fair Hill MD 21921. 410-398-1512
---South & West------
Better Off Dead
(Grateful Dead tribute)
Soul Revival
(Allman Brothers/Grateful Dead tribute) $25 @ 8x10, 10 E Cross St Baltimore, MD 21230 (410) 625-2000
Shirletta Settles
Early show 5pm @ 14 Forty bar at Horseshoe Casino Baltimore,1525 Russell St, Baltimore, Maryland 21230
Kristen & the Noise
(classic rock) @ 14 Forty bar at Horseshoe Casino Baltimore,1525 Russell St, Baltimore, Maryland 21230
Sarah Sullivan & the New Old Fashioneds
Also aerialists, and burlesque. Champaigne toast Expected sellout. $45 @ Mobtown Ballroom, 861 Washington Blvd, Baltimore, Maryland 21230
to reserve tix
Dean Crawford band
(country) @ Cancun Cantina, 7501 Old Telegraph Road Hanover MD. 21076-1525. 410-761-6188
Swamp Candy
(Acoustic Delta Blues duo) Also: Skribe and Mend the Hollow[/b] 7:30pm $25 @ Eastport Democratic Club, 525 State Street Annapolis, MD 21403 443.458.5390
The Late Bloomers
(country/blues/bluegrass) $20 @ 49 West Coffee House, 49 West St, Annapolis, MD 21401. 410-626-9796
DC Blues Society NYE Party
with Sol Roots Band with Carley Harvey
8pm Cover includes Southern style dinner, champagne toast and party favors. Members: $35/adv $50/dr and Non-members: $45/adv $60/dr. @ American Legion Post 41, 905 Sligo Avenue , Silver Spring, MD 20910 , (entrance on Fenton by parking garage.)
For advance tickets
Bobby Lewis Blues Band
Open to the public. 8pm @ Rockville Elks #15, #5 Taft Ct., Rockville, MD 20850. (301)424-2203
Doc Scantlin and his Imperial Palms Orchestra
$75-$150 @ Bethesda Blues & Jazz Supper Club 7719 Wisconsin Avenue Bethesda, MD 20814. 240.330.4500
The Dcievers
(indie rock trio
video sample
)@ Flanagan's Harp & Fiddle, 4844 Cordell Ave., Bethesda Md
Dangerous Curves
(unknown gene) @ Hersheys, 17030 Oakmont Ave, Gaithersburg, MD 20877. Ph: 301 948 9893
Guys in Thin Ties
(unknown genre) @ clydes, 5441 Wisconsin Ave, Chevy Chase Village, MD 20815 (301) 951-9600
Gina DeSimone & the Moaners
@ Limerick Pub 11301 Elkin Street , Wheaton, MD 20902. 301.946.3232
Tom Cunningham Orchestra
Details TBA. Contact
Debra@gottaswing.com
@ the Spanish Ballroom 7300 MacArthur Boulevard, Glen Echo, MD 20812
Mary Shaver with the Polecats
Reservations strongly recommended. 6-8:30PM Dinner Set and 9-12:30 AM@ Ice House Cafe, 760 Elden Street Herndon VA 703-437-4500
Four on the Floor w/Overdrive
(dance band) @ Mechanicsville Moose Lodge #495, 27636 Mechanicsville Road Mechanicsville MD 20659
301-884-5454
Rock n' Roll Relics
8:30pm $50/couple includes: Hats, noisemakers, and champagne toast or $94/couple including dinner. @ Frederick Moose Lodge #371, 828 E. Patrick Street, Frederick, MD 21702. contact Bill at 301-514-0966
Bond & Bentley band
(funk jam band) @ Pickles Pub Ocean City, 706 Philadelphia Ave, Ocean City, Maryland 21842
The Dirty Deal
Billy Meyers(Drums); Rick Tremble (Bass) ; Joe Casamento (Guitar). 10pm @ The Big Easy on 60, 5909 Coastal Highway, Ocean City, Maryland 21842
The Comfort Zone
(7pc R&B dance band) Call for details @ The Princess Royale – 9100 Coastal Hwy, Ocean City, MD 21842 Phone:(410) 524-7777
Tranzfusion
(classic rock) $65 per person and include food, open bar (draft beer, house wine & rail drinks), party favors, snacks and midnight champagne toast. @ La Quinta Inn & Suites (Salisbury, MD) 410-546-4400
Pandora's Box
(Aerosmith tribute band) Plus the Bamboo chicken band 7pm $50 @ Chesapeake Beach Resort and Spa , 4165 Mears Avenue Chesapeake Beach, Maryland 20732. Toll Free: 866-312-5596
Washington, D.C.
Shirleta Settles
Call for details. Mention Shirleta as there are a few different NYE parties here that night. 10pm @ The Ritz Carlton, 22nd & M St. Georgetown DC (202) 835-0500
Everyone Orchestra
with Cris Jacobs; Ron Holloway, Ryan Montbleau, Steve Molitz, Hash & Jeff Franca, Durga Mcbroom Jans Ingber
Opening The Show: The Trongone Band $55 or $75/VIP reserved seats (advance sales only until 12/15) @ Gypsy Sally's, 3401 K Street NW at 34 st NW, Washington, DC (under Whitehurst Freeway.)
to reserve tix
Clusterfunk
10pm @ Madam's Organ, 2461 18th Street, NW, Adams Morgan, Washington D.C. 20009. (202) 667-5370
Old 97's
(Roots R&R
video sample
) @ The Hamilton, 600 14th St NW, Washington, DC 20005 (202) 787-1000
19th Street Band
10:30pm $60/standing or $85/seated @ The Loft at The Hamilton, 600 14th St NW, Washington, DC 20005 (202) 787-1000
to reserve tix
Virginia
Highlights of First Night Alexandria
Featuring Curtis Blue, Speakers of the House, The Grandsons, Ruthie & the Wranglers and many more. $20/adv [b]before 12/12
or $30/dr for all events.
For tickets
For complete list of bands with times and locations
@ Different times and locations in Alexandria.
Vintage #18
@ Blackwall Hitch , 5 Cameron St, Alexandria, VA
Classic Soul party
with Skip Mahoaney and The Casuals (
audio sample
) Also: Royal Height and Step 4. Food available, cash bar. Free champagne toast at midnight. 8pm $35 @ Chester's Lounge, 2620 Shirlington Road, Arlington, VA.
The Legwarmers
(Music of the 80's) 7pm $50 @ The State Theatre, 220 N. Washington St. Falls Church, Va. 22046. Tix are general admission. To reserve a table call 703.237.0300
to reserve tix
Big Joe Maher's Big 3 Jazz trio
@ The Chart House, 1 Cameron Street, Alexandria, VA 22314
(703) 684-5080
Wicked Jezabel
(all girl rock band) @ JVs Restaurant, 6666 Arlington Blvd, Falls Church, VA. (703) 241-9504
Tom Principato band
$65/dinner & show adv.
by 12/9
$85/dinner & show at door or $35/show only @ Mad Fox Brewing Co. , 444 W Broad St., Falls Church, VA 22046
to reserve tix
Holly Montgomery
@ Basin St. Lounge upstairs at Two Nineteen Restaurant, 219 King St, Alexandria ,VA, 22314 Call: 703-549-1141
Blues & Burlesque
Hard Swimmin' Fish trio (guitar/bass/harmonica) and dancer: Deanna Danger  $65 dinner from 7:30pm-8:30pm Show at 9pm @ Sweet NOLA's, 688 North Loudoun Street Winchester, VA 22601 Call for details/reservatiions: 540-667-6652
[b]Renagade Thunder
(country dance band) 8pm $15 @ Bright Box Theater 15 N Loudoun Street, Winchester, Va. 22601
Pennsylvania
Nate Myers band
7pm $10 @ River City Blues Club & Dart Room, 819 S Cameron St, Harrisburg, Pennsylvania 17104
MonkeyLion Presents:
Two stages continuous music in two rooms
with Hexbelt, Still Hand String Band, Willie Jack and the Northern Light, Penque (of New Riders of the Purple Sage)/ Diomede Band, Dr. Slothclaw, & more. 7:30pm $20 @ Appalachian Brewing Co., 50 N. Cameron Street, Harrisburg, PA 17101. 717.221.1080
Get the Led Out
(Led Zeppelin tribute) $50 @ Penn's Peak, 325 Maury Rd Jim Thorpe, Pennsylvania 18229. (610) 826-9000
April Mae & the June Bugs
@ The Riegelsville Inn, Riegelsville, PA
First Night Carlisle, PA 
performers include Deb Callahan, The Mahoney Brothers, Brad Crum as Elvis .
For more details
Event Starts 5pm $10 button good for all events @ Buttons and brochure with schedule at Carlisle Theater, 40 West High Street, Carlisle, Pennsylvania 17013
The Glimmer Twins
(Rolling Stone tribute band) $25 @ Mauch Chunk Opera House, 14 West Broadway, Jim Thorpe , PA 18229. 570-325-0249
to reserve seats
Teddy Young & the Aces
8:30pm @ Ernie G.'s 1022 Main St, Avoca, PA 18641. Phone: (570) 457-1600
Blues and Burlesque
with Mikey Junior band and burlesque dancers Call for details @ The Twisted Tail, 509 South 2nd Street, Philadelphia PA 19147 (215) 558-2471
[b]

BSWPa NYE Party
JP Soars & the Red Hots and Bubs McKeg and the Rhythm Aces
8pm $99 includes open bar, buffet dinner @ DoubleTree by Hilton Hotel Pittsburgh Airport 8402 University Blvd, Moon, PA 15108, Phone: (412) 329-1400
to reserve tix
Delaware
Judy Sings the Blues
7:30pm @ Lewinsky's on Clinton, 92 Clinton St, Delaware City, Delaware 19706
Bad Avenue Band
@ The Bayview Tavern, 165 Hubbard ave., Bowers Beach, Delaware 19946
Lower Case Blues and Clifford Keith Band
8pm $89 includes: Open Bar, Food Stations , New Years Beer Release @ Crooked Hammock, 36707 Crooked Hammock Way, Lewes, DE
The Big Package Band
12pc R&B/funk dance band w/horns) @ Delaware Park Casino, 777 Delaware Park Blvd., Wilmington, DE